FooForce is a full range IT consulting and managed services team
Our service catalogue
Business Consulting
Managed IT Services
Solutions
IT Strategy Alignment
Network Design/Implementation
Virtual CIO
Cyber Risk Awareness
Virtualisation
(Design, Implementation & Support)
Managed Backup
Information Security Audit
End-User Helpdesk Support
Level 1,2,3 (Onsite and Remote)
Staff Cyber Risk Training
Information Security Consulting
24/7 System Monitoring, Alerting and Reporting
Cloud Migration
Project Management
IT Documentation Development
and Management
Fleet Rollout and Upgrades
BCP/DR Services
System, Device and Application
Monitoring and Security Management
Office Relocation/Provisioning
IT Planning and Management
Procurement Management
Remote User Support
IT Management Policy Development
and Documentation
IT and Infrastructure Review
Database Administration
Procurement Portal
Cloud Strategy and Migration
Dedicated Client Manager
Implementation & Support of LOB
Applications
Telephony and VoIP Review
Detailed Monthly Service and Account Review
Remote Desktop Business Solutions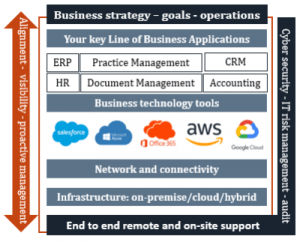 FooForce is completely focused on our client's business objectives and making their working lives simpler and better.  We deliver a scalable solution, providing a professional IT department to our clients through comprehensive Managed IT Services, strategy advice and project delivery services. We build multi-year relationships by being responsive and transparent.
Our team delivers exceptional IT services, consultation, and projects that help our clients protect and grow their businesses.
When you select FooForce, we are your IT partner, you can rely on us as part of the team to put your business first.
YOUR IT TEAM
Local and multi time zone FooForce engineers provide responsive SLA driven remote support. Proactive onsite support is often required and come standard with our service model.
YOUR DATA
We ensure your data and intellectual property are secure, accessible, and recoverable. Backups are verified and file restores are tested.
YOUR IT ASSETS
Technology investments are protected, fully monitored and comprehensively documented. We drive efficiency and security through industry best practice procedures and automated processes.
YOUR NETWORK
First we review and optimise, then we monitor and protect. Your network is your company's lifeline. We give you the uptime you need to be successful.
YOUR TOOLS
Transparency is critical. You receive full access to the enterprise-level tools we customise and manage for your business. You can see the progress we are making on your behalf.
YOUR FUTURE
With Foo's guidance, IT will be a strategic asset for your business. We align technology to meet specific business needs and growth goals.